In exactly three weeks time I will be in Katowice, Poland for the combined World and European 24 hour running championship. Six Norwegian ultra runners are qualified to run with our red, white and blue jersey, and they hope to run more than 240 kilometers each during the 24 hour race.
I am so proud that I was asked to be a part of the support team during the competition and look forward to meet the runners and the officials. From the refreshment area we will do our best to ensure the Norwegian Vikings keep on moving through the night.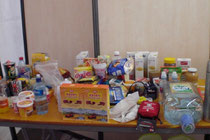 A 24 hour foot race obviously puts an enormous strain on muscles, joints and is a huge challenge for your mental strength. It is all about positive thinking, from the runners to us who are supporting. It is common to have several ups and downs during such a race. The support team will provide enthusiasm, as well as drinks and nutrition and any treatment they might need during the night. Although I am not the best cook in the world I am sure I will be able to feed them plenty of carbs to keep them going, the runners certainly won't be following a low carb diet in a race like this! 
The clue is to keep moving, because every meter you gain, gives you a better result. The competition is strong, with the 2010 winner, Shingo Inoue from Japan, covering a distance of 273 kilometers. That is almost 170 miles, earning him the gold medal!
The competition takes place in a park, on a course which is approximately one mile long. The competitors will be running around and around from 12 am Saturday, Sep 8 to 12 am Sunday, Sep 9. It will be amazing to be a part of it, and for me this is such a race where everyone is a winner! 
An ultra race is any foot race that goes beyond the marathon (42,2 kilometers/26,2 miles) in distance. The shortest ultra races are usually 50 kilometers (31 miles). The 24 hour race is one of the two main official world championship competitions for ultra runners, organized by the IAU, the International Association of Ultrarunners, a partner of the International Association of Athletics Federations (IAAF). 
This is my first time as a part of a Norwegian national team since I was playing football myself as a youth, and I am really excited to be a part of it. Until then I am sure the runners will keep preparing well as they are all raring to go in 3 weeks time! I will tell you all about the race later!