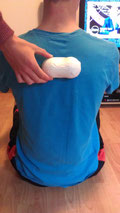 Most people that know me will know that I always use mobility warms up and foam rolling as part of a good warm up routine. Foam rolling is not a new concept and you see people foam roll in commercial gyms as well big athletic tournaments. I believe that foam rolling makes a big difference to the tissue structure and that any tight knots or triggerpoints can be reduced or even disappear prior to starting your mobility warm up; this is a big bonus to help improve your movement quality and improve range of movement.
We know that due to a lot of people's lives, poor thoracic posture or lack of mobility in the thoracic spine is very common. You see people with severely rounded thoracic spines everyday. Changing someone's posture can be very difficult as you can imagine, when a lot of people spend 7-8 hours a day hunch over in front of a laptop at work. As the research is pointing out, the lack of thoracic mobility in a lot of people is becoming more and more evident, so I just wanted to show you a very cheap and easy tool that you can use yourself to try and improve your thoracic mobility.  
All you need is two tennis balls and some tape. As you can see on the picture I have just covered two tennis balls in tape completely, very simple! You then place the two tennis balls alongside your thoracic spine so that each ball sits  on either side of the spine. It is important that you don't do too high up as you don't want to do this in the cervical spine!!
You then lie down on top the balls with your feet on the floor as shown in the video and you basically do a very small forward crunch until you can really feel the tennis balls digging into the tissue outside of your spine. I suggest doing about 5 crunches alongside each vertebrae, so gradually work your way up the spine. I can tell you that this is very uncomfortable, but really useful to do before any strength session or just as part of a daily mobility routine. I thought foam rolling on the IT- band or the Lats was one of the most painful places to foam roll or mobilise yourself, but I think this one is definitely far off being the worst.
Have a look at Adam's expressions and that will tell you a lot:)
I suggest to give it a try and see what you think, please let me know!